Ghanaian Afrobeats singer, Camidoh lost grabs of the most coveted Black Entertainment Award to his Cameroonian counterpart Libianca after she emerged the winner in the Best International Act category.
The Cameroonian -American Afrobeats Singer, Libianca was named the viewers Choice: the Best New International Act at the BET Awards 2023 at the Microsoft Theater in Los Angeles, California.
She emerged the winner with her top-charting song 'People' which echoed worldwide following its release last December.
She secured the award over her fellow contenders in the category:  Asake from Nigeria, Camidoh with the Sugarcane remix from Ghana, Flo from UK, Maureen from France, Mc Ryan Sp from Brazil, Werenoi also from Brazil, Raye from the UK, and  Pabi Cooper from SouthAfrica.
Her single 'People' has been one of the top charting songs on music streaming platforms. In an interview with BBC, the singer revealed that she birthed the song out of her melancholic state after she was left drinking tequila and Ouzo with wine chasers which she relied on to cure her depression.
"I felt like I was drowning in it and nobody could see me and I just needed some help. So I decided, you know what? Let me just go in the studio, because I feel better whenever I've done something productive. That helps me."
"I wasn't expecting people to come out. It's just how I was feeling. I couldn't write about anything else." She said
Early January, her song came off second on Billboard's Afrobeats song ahead of Burba Boy's Last Last, Tems Free Mind, and Wizkid's Essence ft. Justin Bieber.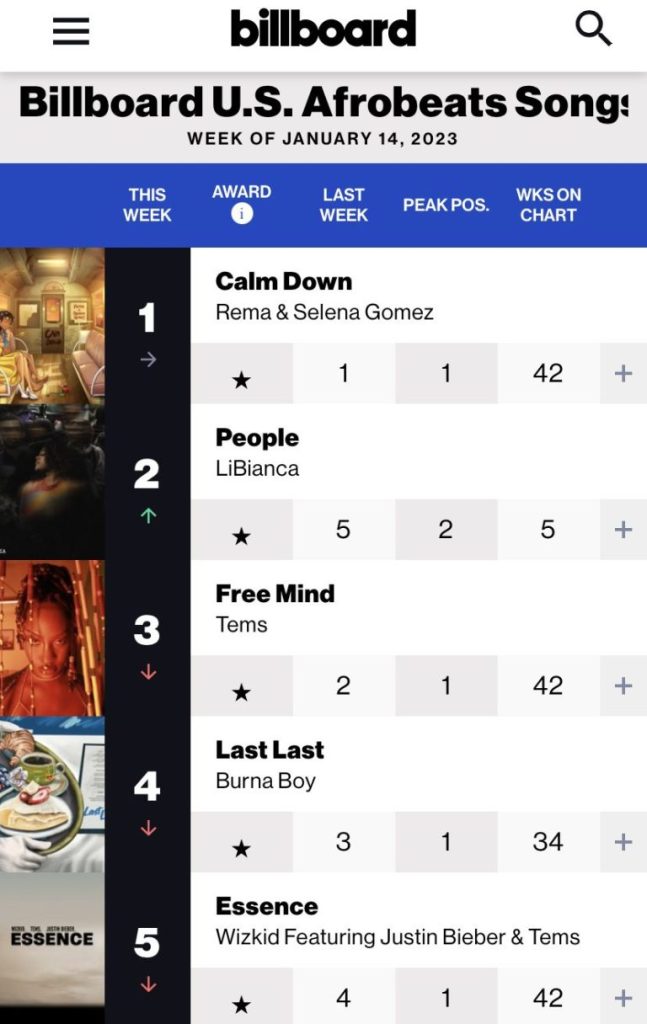 Cameroonian-American Afrobeats singer Libianca is officially a Billboard Hot 100-charting hitmaker, as her breakthrough single "People" debuts at No. 91 on the chart dated May 13, marking her first entry.The song, released Dec. 5, 2022, via 5K/RCA Records, arrives with 5.9 million U.S. streams (up 33%), 2.7 million radio airplay audience impressions (up 28%), and 1,000 downloads sold (up 40%) in the April 28-May 4 tracking week, according to Luminate.
With its growing radio reach, it starts at No. 37 on Rhythmic Airplay and No. 39 on Mainstream R&B/Hip-Hop AirplayThe song's streaming gains can be partly attributed to multiple remixes of the track: with Becky G (released April 21); Ayra Starr and Omah Lay; and Cian Ducrot, as well as a sped-up version. The song also surges into the top 40 of both of Billboard's global charts, bounding 41-19 on Billboard Global Excl. U.S. and 47-25 on the Billboard Global 200
TikTok has been a big factor in the song's building popularity, as a portion of the original has been used in over 1.6 million clips on the platform to date. A piece of the song's sped-up version has been used in more than 265,000 clips.
For Billboard's April Chartbreaker feature, Libianca recalled when she first uploaded a snippet of the song to TikTok: "Waking up the next morning to so many people feeling so connected to the song. I saw families sending me videos of their babies singing the song, and women messaging me about the s–t that they go through in their homes and how this song needs to drop ASAP because it's calling to their hearts."
Libianca, who was born Libianca Kenzonkinboum Fonji in Minneapolis before relocating to Cameroon, is new to Billboard's charts. "People" became her first song to appear on a Billboard survey when it opened at No. 38 on the Billboard U.S. Afrobeats Songs chart in December. It holds at its No. 2 high on the latest list.
Prior to "People," Libianca appeared on the 21st season of NBC's The Voice, in 2021. She reached the top 20 in the competition, with Blake Shelton as her coach, before being eliminated. During her run on the show, she performed SZA's "Good Days," The Weeknd's "Save Your Tears," Billie Eilish's "Everything I Wanted" and Doja Cat's "Woman."
Libianca's "People" has rapidly made it to No. 2 on the Billboard U.S. Afrobeats Song Charts. Cameroonian singer Libianca continues to soar on the chart as her hit single "PEOPLE" climbs up to 2nd Place on The Billboard U.S. Afrobeats Song Charts. (Source: Billboard)