The US Coast Guard reported yesterday that suspected human remains have been recovered from the submarine that imploded en route to the Titanic earlier this month. 
The remains will be conveyed by the Coast Guard from the North Atlantic to the US port, where medical professionals will examine the remains recovered from the wreckage. 
This leaves investigators with a great task to uncover the cause of the tragedy which shall determine the underlying cause therefore becoming a pattern against further tragic incidents.  
"The evidence will provide investigators from several international jurisdictions with critical insights into the cause of this tragedy. There is still a substantial amount of work to be done to understand the factors that led to the catastrophic loss of the Titan and help ensure a similar tragedy does not occur again," Jason Neubauer, a chair captain with the Marine Board of Investigation stated.
 All five persons on board, including the pilot, who embarked on the voyage to the historic Titanic lost their lives following the implosion that occurred 1 hour, 45 minutes after the submersible launched into deep water and lost contact with its support ship on June 18.
The mutilated remains of the submarine were conveyed ashore at Newfoundland, Canada, yesterday, which officials have determined will aid in an investigation into the safety standards, certification, and environmental design of the Ocean Gate submersible.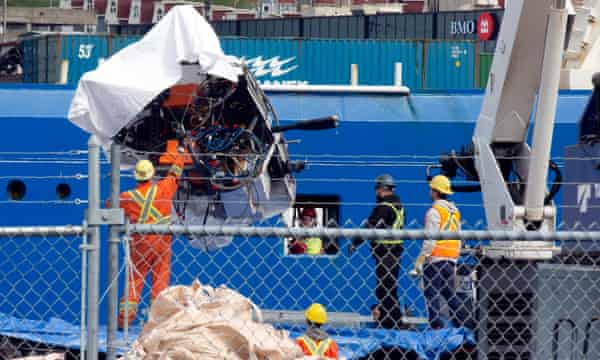 It was later conveyed to St. John's by the Horizon Artic when the debris was submerged to the Canadian shore. 
According to Reuters, an inquiry that was underway by the Canadian Transportation Safety Board (TSB) stated that preliminary interviews had been conducted with the crew of the support vessel Polar Prince, which consequently captured data of the ship's voyage and also "inspected, documented, and cataloged" all the debris recovered from the site before handing it over to US authorities. 
The Ocean Gates submersible lost contact with its support vessel, Polar Prince, an hour and 45 minutes after it commenced its voyage and was discovered about 1,600 feet from the Titanic wreck four days ago. 
On board were Stockton Rush, the CEO of Ocean Gate, Pilot Henri Nargeolet, British entrepreneur Hamish Harding, Pakistani billionaire Shahzada Dawood, and his son Suleiman Dawood.