The National Service Scheme has secured the government's approval for an increment in allowances paid to personnel from GH₵ 559.04 to GH₵ 715.57, effective January 2023.

The approval reached the secretariat on July 18, following a letter signed by the Deputy Finance Minister, Hon. Abena Osei Asare.

In a press release dated July 23, 2023, signed by Director, Corporate Affair of the National Service Scheme, Ambrose Entsiwah Jr., the secretariat divulged that the increment follows a series of engagements between the National Service Scheme, the Fair Wages and Salaries Commission, and the Ministry of Finance.

Consequently, The Controller and Accountant-General, the office in charge of disbursing salaries and allowances on behalf of the government, has been directed to implement the new changes.

NSS has assured personnel who have been in active service since January 2023 of receiving the difference they deserve following the increments' implementation and further assured them to wait on the service as they undertake administrative processes to pay arrears.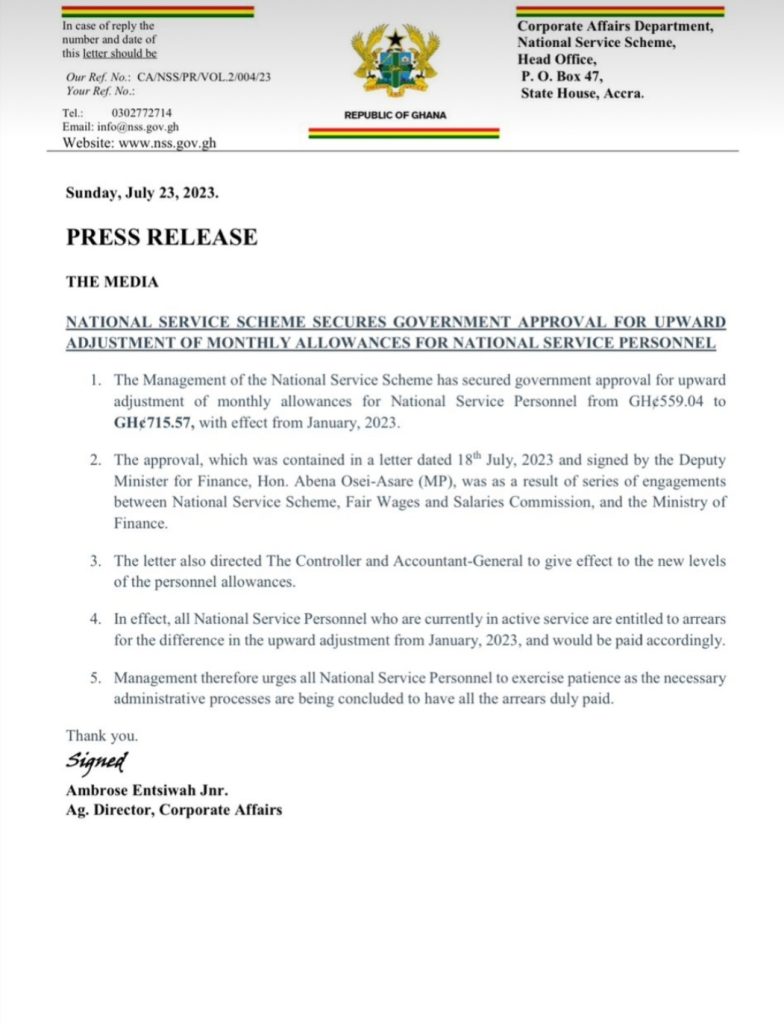 The increment happens to be a vindication of the plea of student unions, which were canvassing for an increase in allowance to complement the increased cost of living in the country.

The Immediate past President of the National Union of Ghana Students, Dennis Appiah Larbi, deemed the former allowance "not in any way understandable!" as they were calling on the government for a 43% increase from GH₵559 to
GH₵800.

Currently, this represents a double increment by the government within seven years, as the previous allowance of GH350 was increased to GHC559.04, representing a 60% increase in January 2017.