A forum aligned with the main opposition National Democratic Congress(NDC) dubbed NDC Youth Forum has endorsed and declared their unflinching support for NDCs Diadem Hon. Elvis Afriyie Ankrah as the next General Secretary of the NDC.
The forum indicated that, Hon. Elvis Afriyie Ankrah has the political locus and experience to deliver exhilarating victory for the NDC.
A Press release signed by the Secretary of the Forum, Osman Iddrisu Banpuori said, "the forum is imbibed with his strategy, charisma, and committed to service for the party as well as his enviable vision that seeks to pull all party members along which we hope would give our great party a resounding victory come 2024."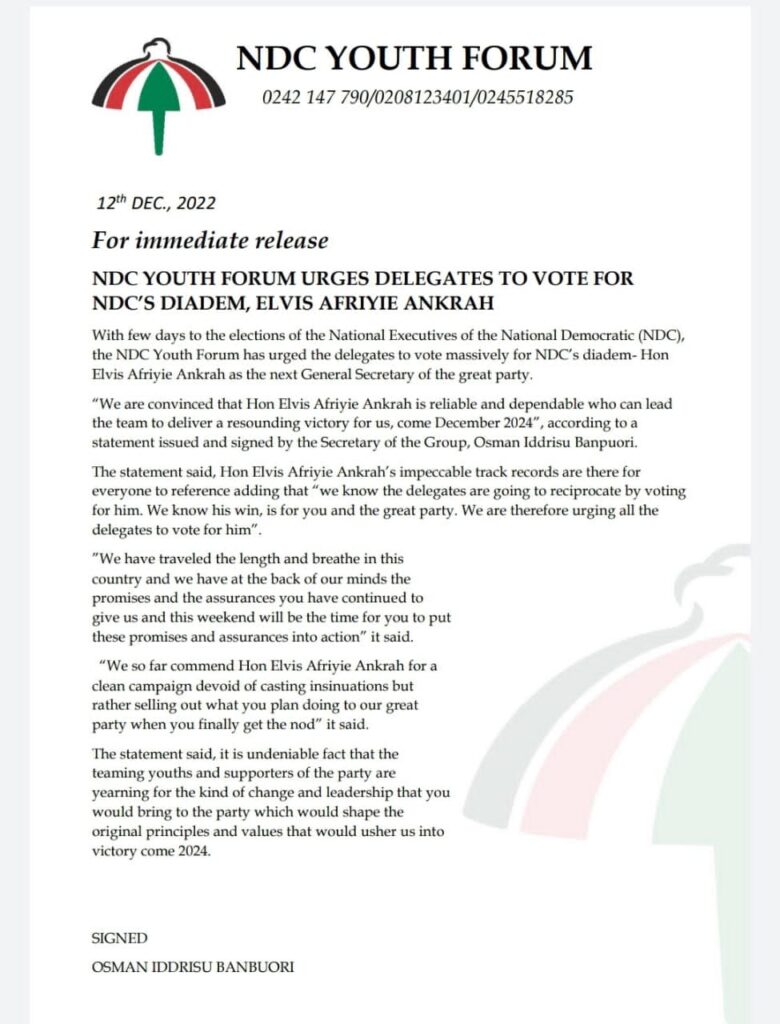 "In preparations for the 2024 election, the party needs a General Secretary, that people can rally behind, approach and rely on to deliver victory for this great party, and we are convinced beyond every reasonable doubt that Elvis Afriyie Ankrah has these pedigrees to soldier the party into victory," the forum added.
The NDC Youth Forum in the statement expatiated that, we are convinced that, Elvis Afriyie Ankrah who is the current Director of Elections of the NDC, "has the impeccable track records are there for everyone to reference adding that" we know the delegates are going to reciprocate by voting for him. we know his win, is for you and the great party. We, therefore, urge all the delegates to vote for him.
"We have traveled the length and breathed in the country and we have at the back of our minds the promises and the assurances you have continued to give us and this weekend will be the time for you to put these promises and assurances into action," it said
"We so far commend Hon. Elvis Afriyie Ankrah for a clean campaign devoid of casting of insinuations but rather selling out what you plan doing to our great party when you finally get the nod" it added
"It is an undeniable fact that the teaming youth and supporters of the party are yearning for the kind of change and leadership that the party requires to shape the original principles and values that would bring to the party which would shape the original principles and values that would usher us into victory, "the statement said
By Lawrence Odoom