The majority MPs in Parliament have been ordered by the leadership of the New Patriotic Party (NPP) to stay away from an attempted vote of censure being planned by the Minority Caucus against Mr. Ken Ofori-Atta, Minister of Finance for his removal from office.
According to a statement released and signed by Justin Kodua Frempong, General Secretary of the NPP, the NDC Minority Mps' inane decision to axe the Finance Minister from office is misguided and meant to ruin the government's moves to address the present socio-economic woes facing the country.
"By this directive, the leadership of the Majority Caucus especially the Whips are to ensure that no Member of the Majority Caucus partakes in this exercise by the Minority Group in Parliament," the statement said.
While the National Executive body sees the country's current socioeconomic predicaments and the need for immediate pragmatic measures, it is the party's strong conviction that the demand of the NDC-led Minority Caucus is misguided and intended to thwart the government's good-yielding efforts to arrest the current socioeconomic Challenges.
The Majority caucus indicated that the government's negotiation team with the International Monetary Fund led by the Minister of Finance is duly acknowledged by the leadership of the party.
The National Executive body of the Party argued that the removal of the person in charge of leading the negotiations with the IMF might trigger the progress so far on the grounds that negotiations with the IMF are almost accomplished.
Below is the full statement
Attached is the press release to it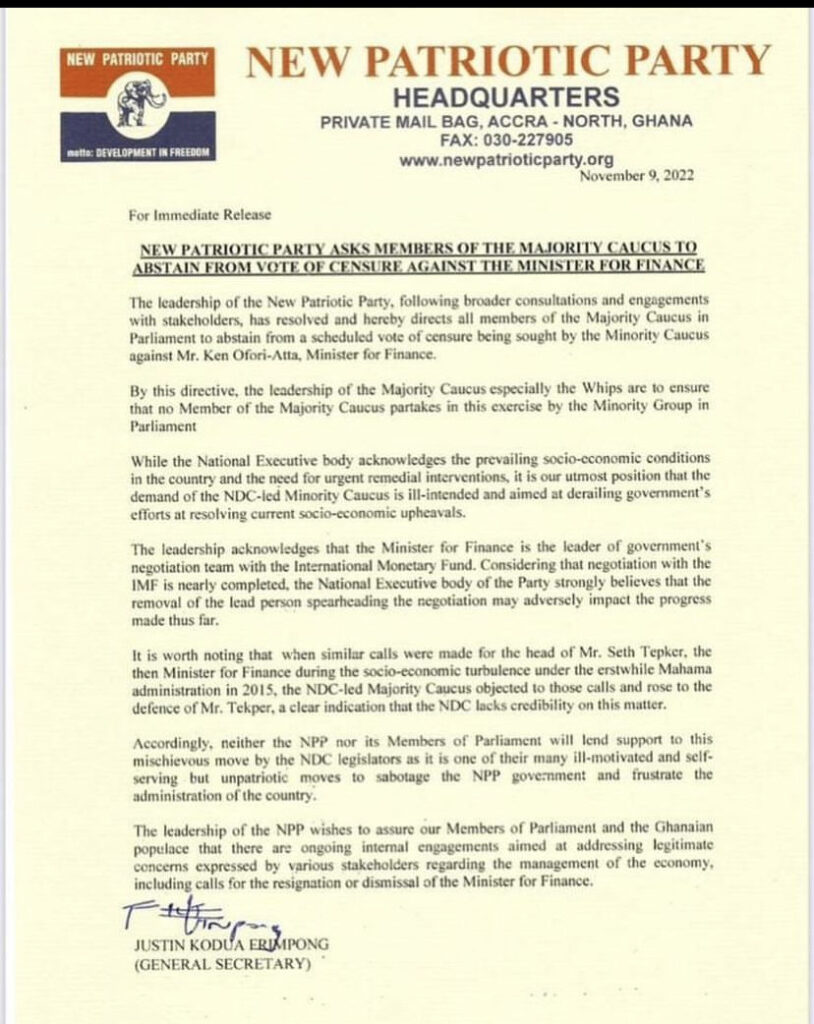 By Lawrence Odoom