PREMIER DJ AWARDS 2ND EDITION NOMINATION OPENS.
The Premier DJ Awards organizers have opened nominations publicly for this year's edition. The organizers of the annual Premier DJ Awards would like to officially inform all DJs, promoters, publicists, radio/FM stations, bloggers, and the general public that submission of entries for the 2nd annual edition of Premier DJ Awards is officially open.
Nominations are open into various categories, both old and newly added Categories of the awards. The award scheme is to acknowledge and honor DJs and media houses, some media personnel who are doing incredibly well in the country and beyond excelling at an exceptional pace in their respective work fields.
It is published works being it collaboration or single are eligible for submission for nomination. Call for entry begins today April 1st, 2023 to April 30th, 2023 respectively.
Nomination can be done by oneself, the manager, or another person for someone else you know deserves to be honored for their great works and talents.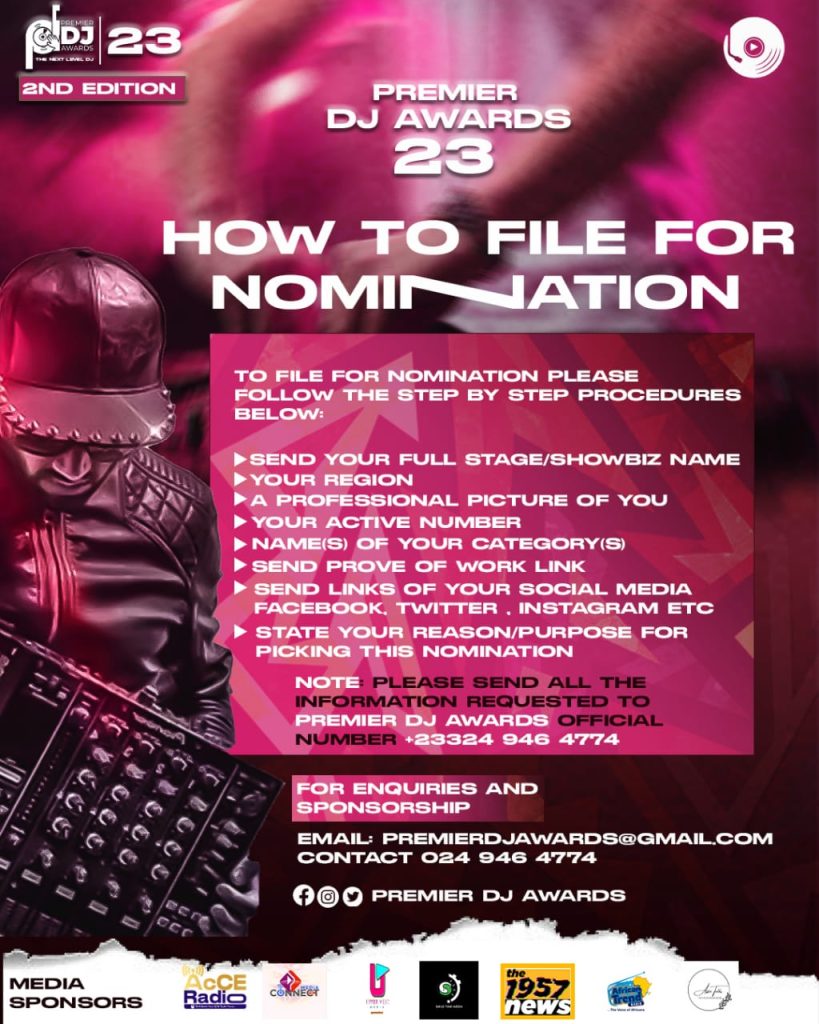 TO FILE FOR NOMINATION FOR THE 2ND EDITION OF PREMIER DJ AWARDS, KINDLY FOLLOW THE PROCEDURE/STEPS BELOW:
Send Your Full Stage/Showbiz Name.
Your Region
A Professional Pictures Of You.
Your Active Number.
Name(s) Of Your Category(s).
Send Prove Of Work Link.
Send Links Of Your Social Media Handles(Twitter, Instagram, And Facebook)
State Your Reason/Purpose For Picking This Nomination.
NOTE: Please Send All The Information Requested To Premier DJ Awards Official Number: +23324 946 4774
For Enquiries And Sponsorship
Contact: 0249464774
Email: premierdjawards@gmail.com
FB, TWITTER, IG: Premier DJ Awards