Founder/ Team lead for the1957news, one of the fastest growing online news portal in Ghana, Odompleh Bernard Kwesi, popularly known as Nene Odompleh has made his debut spot in Avance Ghana's Top 50 Bloggers in Ghana, placing 36.
Nene Odompleh has years of experience in online publishing and content creation and has built a successful online news agency, the1957news through apt content coverage, timely reporting, and attention to accuracy.
Reacting to the latest recognition from Avance Ghana's ranking, he said being recognized in the ranking this year feels incredibly humbling, and thanked his followers on social media for their support over the years.
This year's ranking marks the fifth edition of the annual list, dedicated to honoring the remarkable individuals who have blazed a trail in educating, entertaining, and informing a global audience through various online platforms.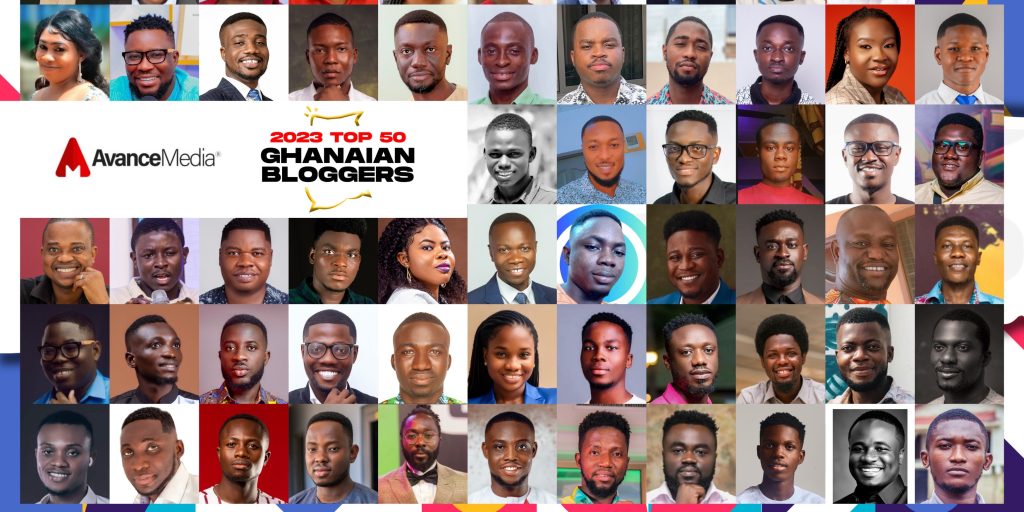 Ameyaw Debrah, a trailblazer in the world of blogging, has seized the top position in this year's ranking. A luminary in the blogging sphere, Ameyaw Debrah's name is synonymous with insightful content and engaging storytelling. His rise to the pinnacle of this prestigious list reflects the profound impact he has had on the digital landscape.
Joining Ameyaw Debrah in the coveted top 5 are an illustrious group of bloggers who have left an indelible mark on the digital frontier: Samuel Amadotor, Clement Asamoah Yeboah, Papaga Seckloawu Bless & Frank Bonor Mawutor and Rashad Emmanuel
These top bloggers have harnessed the power of words and multimedia to captivate their audience and foster dedicated online communities.
The rankings are determined by various criteria, including annual website traffic and social media engagement. This comprehensive approach ensures a well-rounded evaluation of each blogger's influence and reach.
Prince Akpah, the Managing Director of Avance Media, emphasized the critical role this ranking plays in inspiring bloggers to maintain the highest standards of content quality and credibility. He underlined the duty that bloggers bear in responsibly disseminating information to their global readership, affirming their role as essential voices in today's digital landscape.
The complete list of Avance Media's 2023 Top 50 Ghanaian Bloggers is provided below.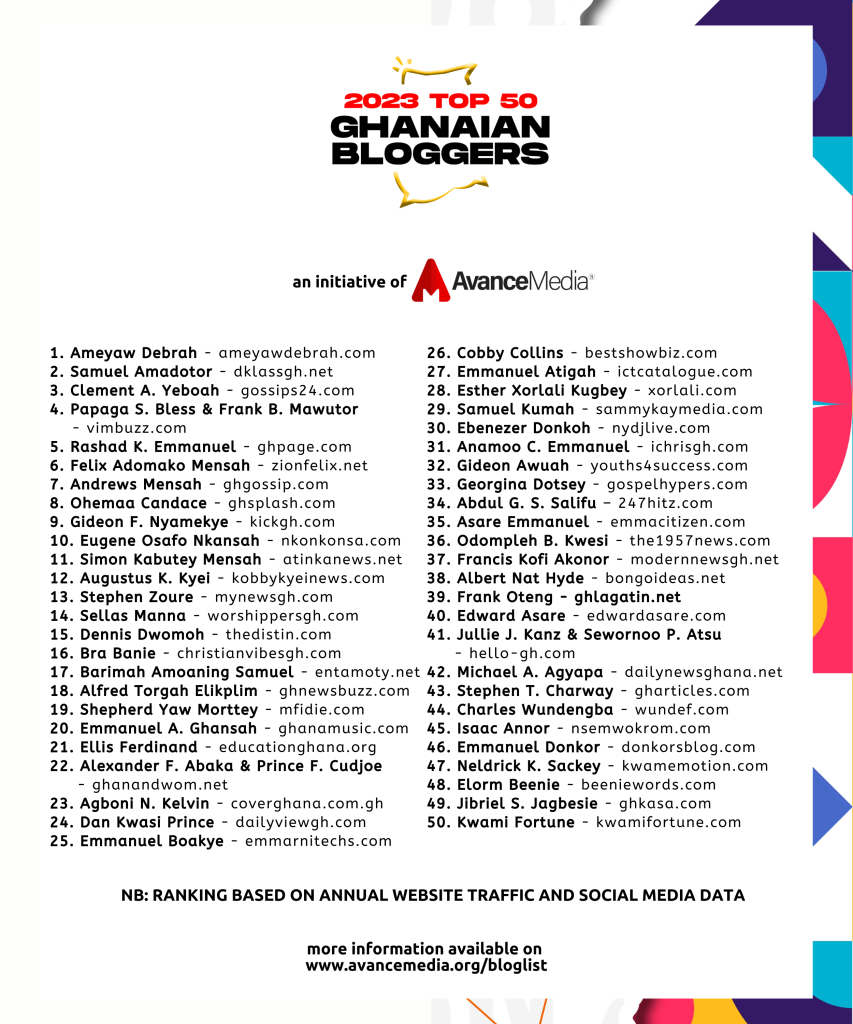 Ameyaw Debrah – ameyawdebrah.com
Samuel Amadotor – dklassgh.net
Clement Asamoah Yeboah – gossips24.com
Papaga S. Bless & Frank B. Mawutor – vimbuzz.com
Rashad K. Emmanuel – ghpage.com
Felix Adomako Mensah – zionfelix.net
Andrews Mensah – ghgossip.com
Ohemaa Candace – ghsplash.com
Gideon F. Nyamekye – kickgh.com
Eugene Osafo Nkansah – nkonkonsa.com
Simon Kabutey Mensah – atinkanews.net
Augustus Koranteng Kyei – kobbykyeinews.com
Stephen Zoure – mynewsgh.com
Sellas Manna – worshippersgh.com
Dennis Dwomoh – thedistin.com
Bra Banie – christianvibesgh.com
Barimah Amoaning Samuel – entamoty.net
Alfred Torgah Elikplim – ghnewsbuzz.com
Shepherd Yaw Morttey – mfidie.com
Emmanuel Adom Ghansah – ghanamusic.com
Ellis Ferdinand – educationghana.org
Alexander F. Abaka & Prince F. Cudjoe – ghanandwom.net
Agboni Nicholas Kelvin – coverghana.com.gh
Dan Kwasi Prince – dailyviewgh.com
Emmanuel Boakye – emmarnitechs.com
Cobby Collins – bestshowbiz.com
Emmanuel Atigah – ictcatalogue.com
Esther Xorlali Kugbey – xorlali.com
Samuel Kumah – sammykaymedia.com
Ebenezer Donkoh – nydjlive.com
Anamoo C. Emmanuel – ichrisgh.com
Gideon Awuah – youths4success.com
Georgina Dotsey – gospelhypers.com
Abdul G. S. Salifu – 247hitz.com
Asare Emmanuel – emmacitizen.com
Odompleh Bernard Kwesi – the1957news.com
Francis Kofi Akonor – modernnewsgh.net
Albert Nat Hyde – bongoideas.net
Frank Oteng – ghlagatin.net
Edward Asare – edwardasare.com
Jullie J. Kanz & Sewornoo P. Atsu – hello-gh.com
Michael A. Agyapa – dailynewsghana.net
Stephen T. Charway – gharticles.com
Charles Wundengba – wundef.com
Isaac Annor – nsemwokrom.com
Emmanuel Donkor – donkorsblog.com
Neldrick Kwame Sackey – kwamemotion.com
Elorm Beenie – beeniewords.com
Jibriel S. Jagbesie – ghkasa.com
Kwami Fortune – kwamifortune.com