The maiden edition of PREMIER AWARDS was held at the Accra metropolitan assembly's Snap Cinema over the weekend. The award was held under the theme "REVOLUTION IN ARTS" and had exceptional performances from artists such as Klarah Kay, De Parrot Speaks, DJ Azonto, and several others.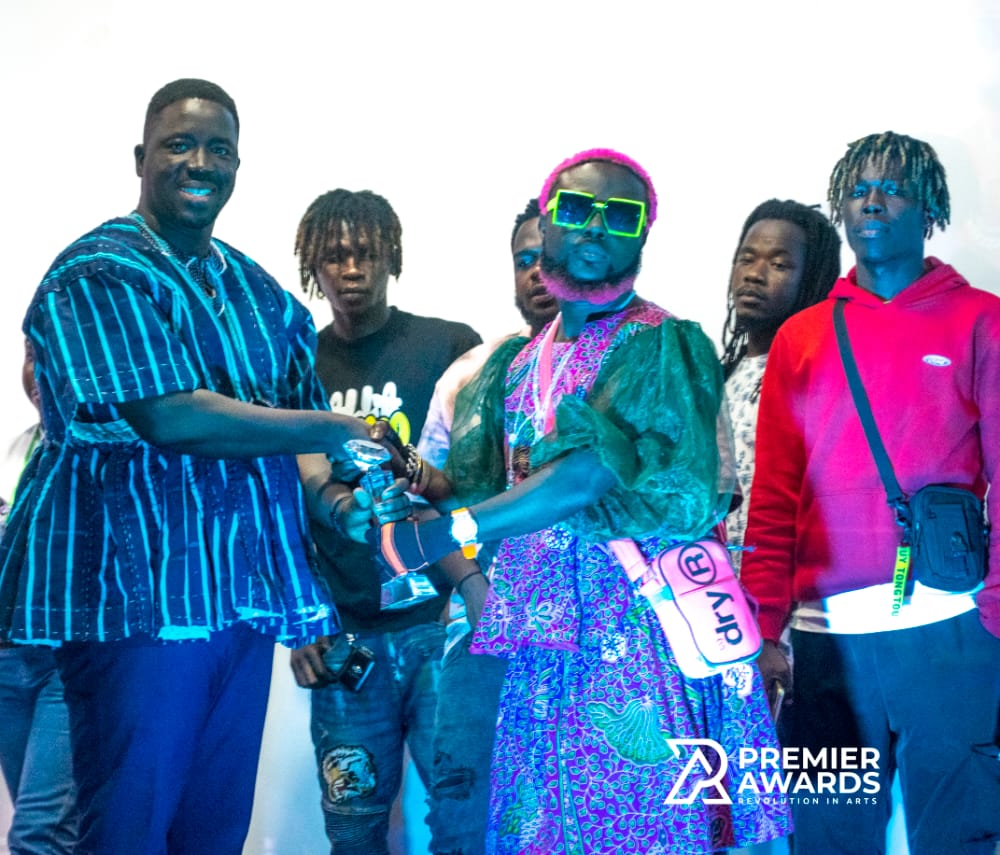 Personnel in the entertainment and business world were honored on the night for their exceptional work done over the year.
The event night had the appearance of industry person's making positive impacts,  putting talents and our entertainment industry on the global market Such as Elorm Beenie of Beeniewords.com, Nene Odompleh of the1957news.com, Dan Lartey Of Remedi Entertainment, Papa Joseph Ofori of the Pafric Training Institute and may others.
Check the full list of Awardees below;
1. AFROBEAT SONG OF THE YEAR      
PRINZ KEYSYZ –JADEN
2. COLLABORATION OF THE YEAR
ALVIN JAY – ABENA SIKAPA FT KAMANI & YANO
3. CONTENT CREATOR OF THE YEAR
EBO SMITH
4. DJ OF THE YEAR
ADUANABA DJ SAMMY BEE
5. GOSPEL ARTISTE OF THE YEAR
EFYAMUSE
6. GOSPEL SONG OF THE YEAR
ELVIS NSO -YINE MINISTRY – KELESE TO
7. HIGHLIFE SONG OF THE YEAR
BRA DONDO – NEVER GIVE UP
8. HIP HOP ARTISTE OF THE YEAR
TREY LA
9. HIPLIFE SONG OF THE YEAR
MC JAYNIEL – WONTAWO NOKO
10. MALE DJ OF THE YEAR
DJ RASNICO
11. MALE RADIO PERSONALITY OF THE YEAR
GYATABA – ANANSE FM 1O4.9
12. MC OF THE YEAR
MC JAYNIEL
13. MOST PROMISING YOUTH OF THE YEAR
SKINNY
14. MOVIE/FILM DIRECTOR OF THE YEAR
NANA AFFUM BERIMAH – JABU
15. PRODUCER/SOUND ENGINEER OF THE YEAR
BRA DONDO
16. RAPPER OF THE YEAR
SHADONAI – FOREVER AND A DAY
17. RELIGIOUS PROGRAME OF THE YEAR
KINZY – OSOKORO MMERE
18. SONG WRITER OF THE YEAR
BRA DONDO – NEVER GIVE UP
19. AFROBEAT ARTISTE OF THE YEAR
STARBONZY
20. ALBUM/EP OF THE YEAR
ELVIS NSO-YINE MINISTRY – HUM N DE TU FA'ARA
21. ARTISTE OF THE YEAR
AMANKRADO GH
22. COMIC ACTOR OF THE YEAR
NEWTON TV – FACEBOOK GIRL
23. DISCOVERY BLOGGER OF THE YEAR
NANA KWAME DEBLOGGER
24. EMERGING MEDIA PERSONALITY OF THE YEAR
MXTAR KHAY
25. FEMALE VOCALIST OF THE YEAR
NICOLE MUSIC – BLACK IS BEAUTIFUL
26. HIGHLIFE ARTISTE OF THE YEAR
SINGJAY
27. MUSIC VIDEO OF THE YEAR
KLARAH KAY – BLACK IS BEAUTIFUL
28. PHOTOGRAPHER OF THE YEAR
RICH PHOTOGRAPHY
29. RADIO SPORT COMMENTATOR OF THE YEAR
BRIGHT AWUAH BRYTO – EZRA FM
30. REGGAE/DANCEHALL ARTISTE OF THE YEAR
STANZYARMY
31. REGGAE/DANCEHALL SONG OF THE YEAR
OMEGA S – LEGENDARY
32. SOCIAL MEDIA INFLUENCER OF THE YEAR
RAS GENERAL
33. SPOKEN WORDS/POET OF THE YEAR
DE PARROT SPEAKS – SOMEWHERE IN WEST AFRICA
34. SOCAIL MEDIA INFLUENCER
RAS GENERAL
35. HONORARY AWARD
NENE ODOMPLEH
36. HONORARY AWARD
ELORM BEENIE
37. HONORARY AWARD
DIRECTOR PN
38. HONORARY AWARD
PAPA JOSEPH OFORI
39. HONORARY AWARD
NANA KAY BILLZ
40. MOST CONSISTENT ARTISTE
DJ AZONTO
41. HONORARY AWARD
DJ AZONTO
42. INFLUENTIAL DJ
DJ AZONTO