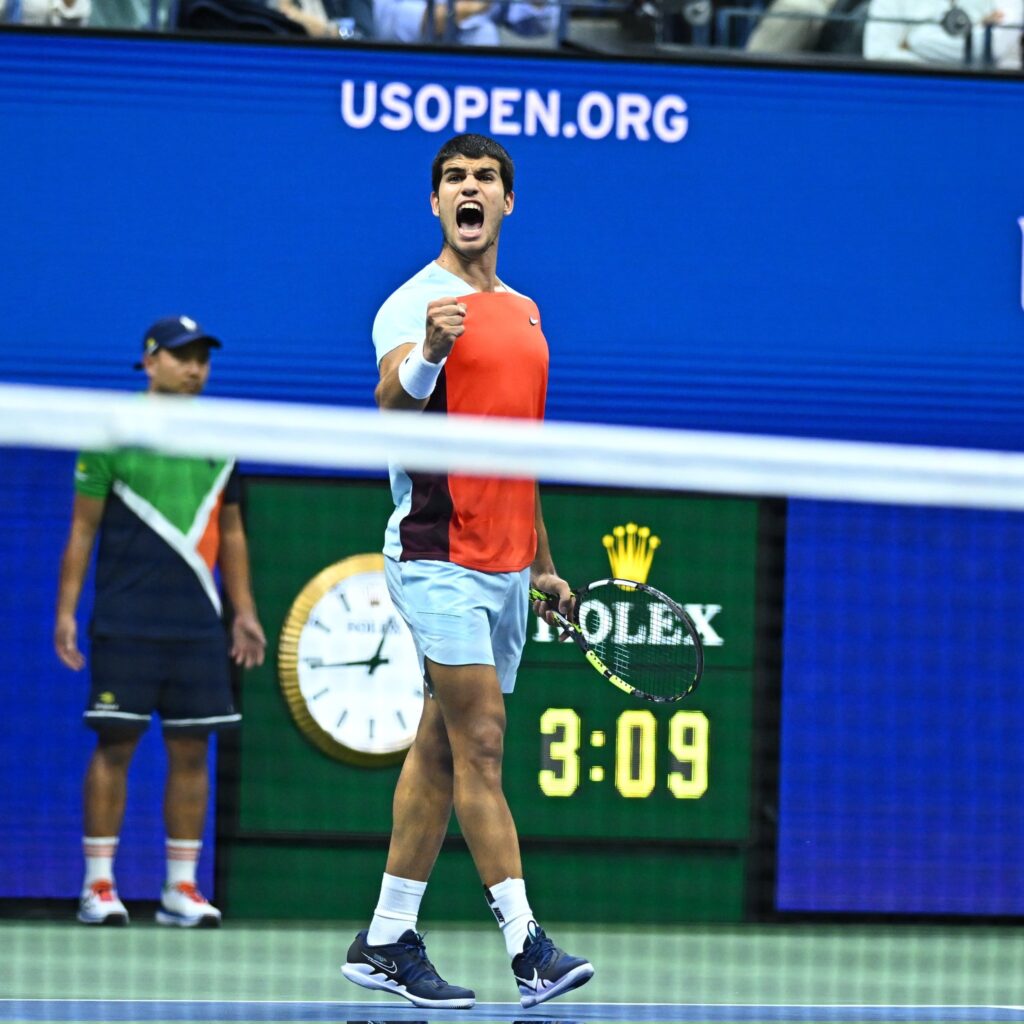 It was an epic quarter final battle at the ongoing US Open, the last grand slam of the calendar year when Italian youngster, Jannick Sinner battled it out with 19 year old Spaniard, Carlos Alcaraz Garfia in a quest to book a place in the semi finals.
Many pundits and spectators alike dubbed the crunch encounter that lasted for 5 hours and 15minutes at the Arthur Ashe Stadium as the game of the tournament, with that tag likely to be maintained as only few games remain until the tournament comes to a closure.
With both players trading breaks in the first 4 games of the first set, it was the Spaniard who had the last laugh when he won the last 3 games of the 1 set after the score was leveled at 3 all to win the the set 6-3 and cruise to an early lead.
21 year old Jannick Sinner gradually grew into the game, making his dominance felt and taking the next two set via tie breakers. He won the second set 7-6(7) and also the third set 7-6(0) to take a 2-1 lead with just a set away from a semi final berth.
The 2022 Miami Open champion, Alcaraz, looked poised to qualify for his first ever grand slam semi finals, taking the game to the Italian by playing a flawless 4 set converting 3/4 break points to seal a commanding 7-5 victory in an hour and 2 minutes after the Sinner struggled with his serves, hitting 6 double faults in that set alone.
With momentum on Alcaraz's side, he once again proved too strong for his opponent, converting a break point in the 12th game to win the set 7-5, in doing so avoiding yet another tie breaker which could've gone the Italians way.
The victory for the Spaniard is his first at quarter final stage of any grand slam and also snaps a 2-0 losing streak against his opponent taking a 3-2 lead in their head to head encounter. Carlos Alcaraz faces Francis Tiafoe in the semifinal match at the Arthur Ashe Stadium on Friday, September 9.