The West African Examination Body WAEC has announced the release of the West African Senior School Certificate Examination (Wassce) on November 30, 2022
According to WAEC, all examination papers at the 49 venues have been auspiciously and thoroughly marked and coordinated. Hence, the processing of the results is already underway.
In a Press Release signed by Mrs. Agnes Teye-Cudjoe, the Head of Public Affairs for the Head of National Office, the 2022 Wassce results release date has been slated for Wednesday, 30th November 2022.
Commenting on examination malpractices that took its shield in this year's WASSCE, the Council has urged the affected candidates and their respective schools to be snappy to rectify and resolve all cases before it blows a lot of dimensions in the Wassce results
" The Council is hereby urging school authorities and candidates who have been invited to its Offices to assist with investigations into suspected cases of malpractices to endeavor to honor the invitations to facilitate the speedy resolution of those cases".
The press statement further explained that the Council will hit hard on candidates and schools on the outcome of refusing to honor their invitation.
"Candidates are informed that their refusal to honor such invitations shall not preclude the Council from making a firm determination on the cases in question".
All candidates are however cautioned to be very circumspect in dealing with faceless individuals on social media since scammers may take the merit of their released results to scam them.
Again all potential candidates are to be on alert for websites that may announce the release of fake results and persons who promise to upgrade results for a fee.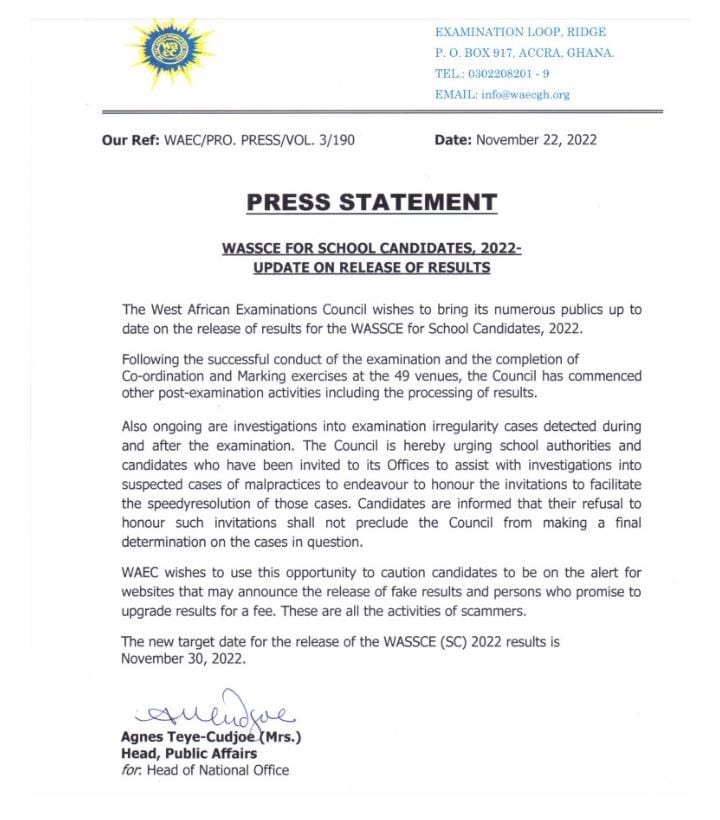 Story written by Salome Kwaw.