Yvonne Adobea becomes the feminine figure to write history in student politics as she has been declared the SRC President-Elect of the 2023-2024 academic year by the Electoral Commission of the Kwame Nkrumah University of Science and Technology (KNUST), which makes her the first female SRC President of the school.

After polls were closed around 4 p.m. and the Electoral Commission collated the results, Yvonne Adobea, a Level 300 Sociology student, polled 8,282 votes, representing 37.37% of the total 222161 verified votes cast.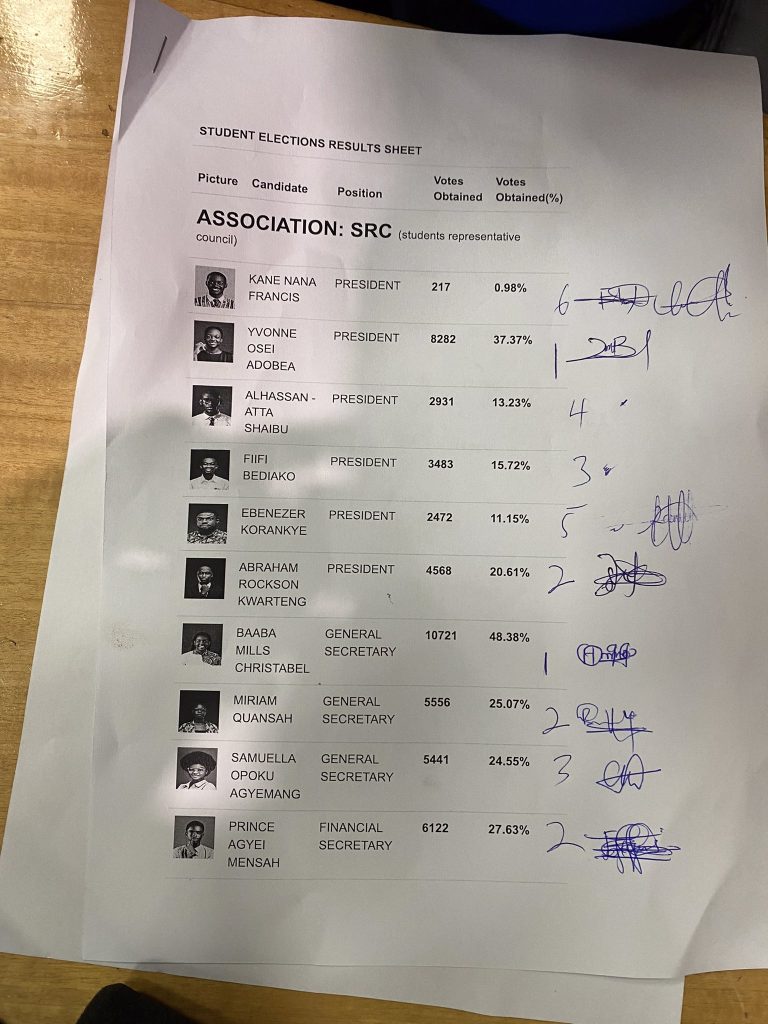 In a too-close-to-call contest with a verified vote of 22215, Yvonne emerged as the winner, with Nana Kwabena Osei as the vice President. Fellow presidential aspirants polled lower than Yvonne, as Abraham Rockson Kwarteng polled 4568 (20.61%), with Fiifi Bediako claiming 3483, which represents 15.72%; Alhassan Atta Shaibu also polled 2931, representing 13.23%; Ebenezer Korankye polled 2472, representing 11.15%; and Kane Nana Francis trailed behind, garnering only 0.98% of the 219 votes.

Following the elections, there was a gender disparity in the polls, as the total number of women who cast their ballot was 9243.

Yvonne's victory is a milestone in student politics as she becomes the first female President of KNUST after she trailed behind immediate past President Frank Owusu last year after he polled a whopping 53.84% of the votes.

This is a continuous history of gender equality in a male-dominated sphere as Deborah Afia Boakye became the first female SRC Vice President after 10 years.

Yvonne's manifesto seeks to address most of the grievances of the student body, which include increasing SRC Life Insurance benefits and working with UITS and the Counseling Directorate of DOSA to establish e-counseling.

She also promises to restore the JCRC, which she deems her top priority "We will fight for an immediate revocation of the dissolution of JCRCs and put up structures that will safeguard and preserve their purpose, roles, and place in our body politics and governance." She stated.

Among the promises is the end to the publication of results on the notice board, putting students' privacy first.